WINNERS KNOW IT PAYS TO CONSTANTLY IMPROVE THEIR GAME. That's why every Blackjack enthusiast needs this power-packed new mini-tutorial:"WINNING BLACKJACK MARK DIAMOND'S WAY"!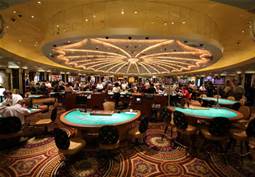 It's no fun when your favorite Casino game seems more like work than play. But don't get discouraged - get help! Renowned Blackjack Pro., Mark Diamond has cracked the vault that's held the Casino Industry's biggest, dirtiest, and best-kept secrets---until now. For the very first time, he reveals how to spot deceptive practices Casinos commonly use to cheat players out of their money. And, gives his powerful insights from a professional's perspective for fighting-back you can not get from any other source---which altogether can mean more fun (and potentially more profits!) the next time you play. This must-read is fun and easy to understand, it's modestly priced, and it's here at your fingertips. Now YOU can be a better player - the MARK DIAMOND way! DON'T MISS YOUR CHANCE!

GET THE INSTANT DOWNLOAD NOW - JUST $19.99!



EASY INSTANT DOWNLOAD INTRUCTIONS: To open and read this e-book your device must have Adobe 7.0 or a more recent version, or a comparable PDF platform. To purchase, simply click the PayPal button below and complete the payment process. When finished, "WINNING BLACKJACK MARK DIAMOND'S WAY!" will open automatically. Download and Save it to your device and read at home, or on the go! Copyright 2020-2021 by Author WILL CHAMPION. ALL rights reserved.